Prayer Ministry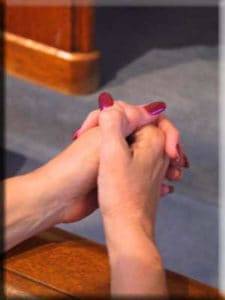 Because we believe that God hears our prayers wherever we are this ministry joyfully accepts prayer partners who live locally or across the globe. Individually or as a group this ministry prays for individuals, the church and the world. The Prayer Ministry also shares a Prayer Labyrinth with the larger community at various times of the year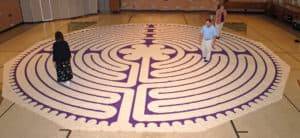 .
Call Mary Bollingberg at 904-403-1557 for information.
Watch a Channel 4 segment on our Prayer Labyrinth.
Food Pantry Ministry    
Thank you to all the leaders, volunteers and supporters of the Trinity Food Pantry ministry!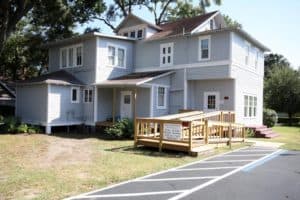 This ministry serves individuals and families who are without enough food to eat. The Food Pantry serves nearly 300 families a month.
There are many different jobs to do including bagging bread and baked goods, data entry, cleaning, packing, unloading food into the pantry and waiting on clients.  Volunteers come from Trinity, other churches, the military, schools and individuals who want to be part of helping to feed the hungry. Help is always needed.
Call the Church at 904-389-5341 for information.
Children's Enrichment Workshop (CEW)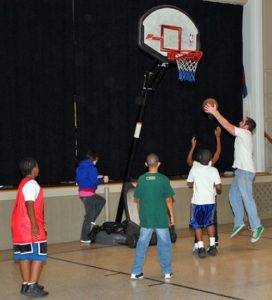 Trinity, in concert with four other churches in the area, provides a twice a week after-school program serving children from three elementary school in the area.  Our program provides basketball and yoga in a safe and caring environment. Yoga serves 2nd through 5th grade. Basketball serves 4th and 5th grade.  If you love kids this is a great place to serve.
Call Pastor Robert at the church ⇒ 904-389-5341 for information.
Quilters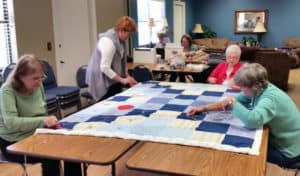 A group of men and women meet each Monday morning to make quilts for Lutheran World Relief. The quilts made at churches from surrounding areas are gathered at Trinity and shipped to a central location for distribution to areas of need.
Call Mary Bollingberg at 904-403-1557 for information.
Honduras Medical Mission
Trinity members in the past have participated in a Medical Mission to the capital of Honduras sponsored by World Gospel Outreach. We hope to be able to participate again in the future.
Call Pastor Robert Kinley at 904-389-5341 for information