Trinity is a Christian Family and just like families everywhere, we like to get together to talk, engage in activities and generally have a good time.  Whether you are a member of Trinity or not, we welcome you. Just beware–despite the group, there is always, always food involved!
The Lunch Bunch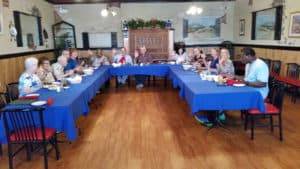 An ever changing group of people get together for a weekday lunch at a restaurant in the area. The group size varies from 10-20 and is made up of working people, retirees, kids out of school and friends of friends. They try a different cuisine each month. The schedule is posted in the Voice of Trinity (newsletter) the month prior.
 

WELCA – Women of the Evangelical Lutheran Church
These are groups of women who come together once a month for service, study and fellowship. We have three groups roughly divided by age and interests.
Coffee Hour
Coffee and goodies after each church service. It is here that we celebrate birthdays, confirmation, baptisms and other special days with cake, coffee and punch.
Young Adults
A fellowship attended primarily, but not exclusively, by Millennials. They meet every other Wednesday at 6:30 PM for Bible Study and fellowship. A schedule is posted the month prior to the meetings.
Trinity people like each other so they get together a lot.
Trivia
A Monday night trivia team (Team MAX) has been meeting at a local restaurant for the last 10 years for dinner and a brew and to compete with other teams from all over the city. Winnings go for Toys for Tots.
Golf
Jacksonville is the land of golf and Trinity players take advantage of that by playing together at the community courses around the area. You don't have to be good to join in.
Book Club
The club is called Read Between the Wines and is an outgrowth of one of the WELCA circles where participants read and discuss a current book. Sounds tame but voices can be raised when discussing book characters.